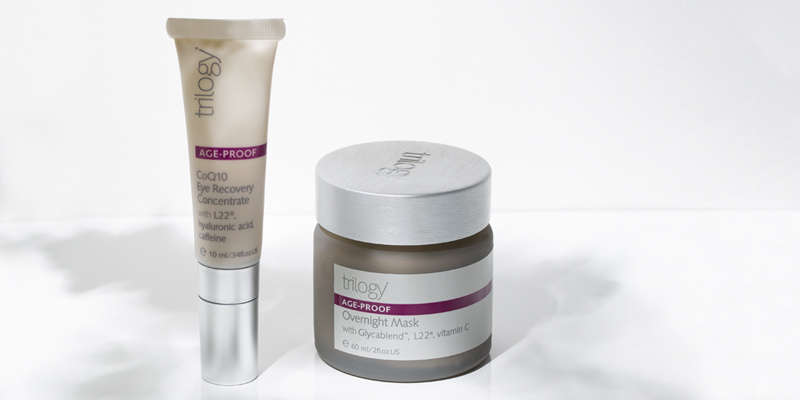 We all want the very best complexion we can have – from boosting radiance, repairing skin to reducing fine lines and wrinkles. High quality, all-natural ingredients in skincare have been proven to deliver real results, as tried and tested by many women of all ages around the world.

What we at Trilogy know is that your skin can look amazing at any age. Led by our passion to empower women to be the best versions of themselves combined with our belief that nature is by far the best laboratory, we have developed a range of Age-Proof skincare products to naturally enhance your skin. And we're excited to introduce our two latest additions, to help you look forward to a healthy, firm and vibrant complexion at any age!

"What I know now is I don't want to look back, I want to look forward and look great."
Boh Runga, New Zealand musician and jewellery designer



ENRICHED WITH NEW SUPER-INGREDIENT L22®

What is L22®?
L22® is an innovative super-ingredient designed to mimic the perfectly balanced lipid profile of a healthy 22-year old's skin. Naturally derived from jojoba oil, macadamia seed oil esters, olive oil and plant-derived squalene, it helps give skin naturally boosted elasticity and firmness, while also strengthening its natural protective barrier function to support a healthy, firm and vibrant complexion. Hello, gorgeous glow!

Trilogy has launched two new additions to the Age-Proof range, and they already have rave reviews!



NEW Trilogy Age-Proof Overnight Mask
An intensely hydrating, leave-on cream mask with advanced natural ingredients and vitamins, Age-Proof Overnight Mask is the newest goodness-packed member of the Trilogy Age-Proof family. Its formula includes L22®, antioxidant-rich Vitamin C to boost radiance and fight free radical damage, as well as Trilogy's own formulation Glycablend™ to fight glycation (a natural ageing process which causes collagen and elastin fibres to harden and lose elasticity). This luxurious mask is an all-rounder for delivering skin hydration, firmness and natural glow with prolonged overnight wear.



How To Use: Apply a generous amount to cleansed skin and leave on overnight. Gently wipe away the excess in the morning and continue with your daily skincare regime. Use 2 – 3 times a week or as often as required. Alternatively, apply and leave on for 20 mins for an instant boost of hydration and radiance!

"With the face mask, you can put it on overnight and sleep in it and wake up with your skin rejuvenated."
Abigail O'Neill, Model & Wellness influencer, 43.

Trilogy Age-Proof CoQ10 Eye Recovery Concentrate
Meet the new & improved Trilogy Age-Proof CoQ10 Eye Recovery Concentrate! Not only repackaged to include a luxe new cooling metal applicator, this fan-favourite also been reformulated to include L22® alongside its current antioxidant-packed CoQ10, plumping hyaluronic acid and firming caffeine. The end result? Bright, hydrated and toned under eyes.
How To Use:
Gently sweep applicator across undereye area & tap the excess with fingers. Trilogy Age-Proof CoQ10 Eye Recovery Concentrate can be used both under and over make-up.
Does natural skincare really work?
We certainly think so! But don't just take our word for it - a recent survey revealed that over 70% of New Zealand women who buy natural skincare brands agree that natural skincare products reveal great results.* We also have completed clinical studies showing that Glycablend™ - a powerful mix of chia, blueberry, strawberry and pomegranate of which is a key ingredient across our Age-Proof range – has been scientifically shown to reduce the breakdown of collagen by up to 88.9%.**
How To Age-Proof Your Skin Naturally
Step One: Cleanse
Cleansing is one of the most important parts of any beauty routine; the build-up of excess oil and pollution needs to be removed to keep skin looking healthy and radiant. With a unique blend of active fruit enzymes and pure plant oils, Age-Proof Active Enzyme Cleansing Cream is a luxurious, certified natural cleanser that helps you achieve your freshest complexion, offering thorough cleansing and gentle daily exfoliating action to leave the skin perfectly prepared for maximum absorption of serums and creams.
Step Two: Repair
Pure plant oils help to repair skin and assists with super-fast skin recovery giving dull lack lustre skin renewed radiance. Just 2-3 drops applied before moisturising gives everything your skin needs for optimum health.
Age-Proof Coq10 Booster Oil
with tamanu, macadamia and black caraway seed oils plus antioxidant co-enzyme Q10 help feed and renew skin. Glycablend™, a potent blend of chia, blueberry, strawberry and pomegranate oils, keeps skin supple and youthful.
Step Three: Moisturise
Lock in moisturise for that naturally hydrated, dewy glow! Our Age-Proof classic
Age-Proof Replenishing Night Cream
is an easily-absorbed daily must, with a luxurious texture for deep nourishment and repair while you sleep. For a deeper boost of hydration, our NEW Age-Proof Overnight Mask is the go-to. Apply a few times a week and wake up with a gorgeous glow!
Step Four:
Pamper Your Peepers
The skin around your eyes requires a bit of extra TLC. Age-Proof CoQ10 Eye Recovery Concentrate helps to not only hydrate and strengthen this delicate skin, but also helps to reduce the appearance of puffiness and fine lines over time (while its metal applicator offers a cooling sensation and helps with microcirculation – win!).
*Survey by www.BeautyReview.co.nz
**MMP tests by Trinity Bioactives Ltd 2015